The Cult of Vampire Freaks
Websites like Vampire Freaks and Facebook Goth Groups are popular with so-called Gothics, but many of the social media goth sites and groups are for posers and wannabes. The majority of users are either in their teens or thirties, a perfect hunting ground for internet predators. The security measures are no different than many social media websites where the administrators rely heavily on users to report anyone who doesn't respect the rules and make sweeps of the cults whenever they can.

But dig a little deeper and what do you find? The user groups are called cults and are mostly filled with black-wearing, heavily made up teens.
They run groups dedicated to a vast number of bands, most of which the older folks would consider it torture to have to listen to. Get past them and you will find a few surprises.
The Christian groups were the first surprise. I had no idea there was such a thing as Gothic Christians. They not only have black-wearing teens proclaiming their love for Jesus, but they even have some churches which exist solely as internet groups. Amazing.
I started playing with keywords after this, wanting to see what other surprises would pop up. There are a large number of groups tucked away that are dedicated to various mental illnesses.
I became interested in mental illnesses myself only after being diagnosed as bipolar. These groups, again run mostly by and for teens, are a treasure trove of coping strategies posted by mental health patients.
One of the most serious mental health problems dealt with on Vampire Freaks is cutting. Cutting is an illness I am recovering from. The patient finds release for emotional pain through physical pain. People who do not receive any treatment, or who do not find the level of help they need in time, sometimes accidentally kill themselves when they cut too deep or too close to a vein. It is a rarely publicized fact that this illness affects the elderly as well as the teens.
These cults are run by people who either still cut or people who have recovered and wish to help others. They follow some very strict rules.
In addition to the usual be polite or be removed rules that are common to every gathering website I know, these cults ban any talk that teaches or encourages cutting. The idea is to help others control or completely overcome the problem, not exasperate it.
And then there are a few more serious groups, dedicated to the suicidal and to those whose lives have been touched by people taking their own lives. They offer confidentiality, friendship, and emotional support to help their members wade through the pain. Membership and postings are more closely monitored in these groups.
The cult owners must be told why you want to join and, should you be allowed in, the cult creators will often insist on reading and approving your messages before allowing them to be posted. Too many offensive or hurtful posts tends to lead to your cult membership being revoked.
No matter what your hobbies or what you are going through, you are sure to find others like you here. And not all of them are traditional Goths, either. Search long enough, and you will discover plenty of people who dress and talk just like you.
Why are they considered Goth if they don't dress like Halloween every day? They consider themselves to be unconventional thinkers. They believe that they see the world differently than the norm, think outside the box if you will. And that's what this site centers itself around; people who go against the mainstream, especially in their way of thinking.
My Gothic Facebook Profile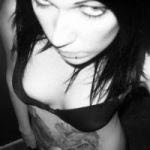 Pale skin and tattooed Gothic sick girls! Deep scars on wrists and stitches on thighs, this collection of Gothic shadows vampires are enough to curl the crucifix off the hundred dollar bill! Beautiful redheads with fire red wings hair and brunettes and blondes both good and evil who strip their Gothic high crush me boots and dance to the ecstasy filled rooms of debauchery.
Sucking fantasies behind dumpsters and rolling on the broken glass in parking lots. These dressed girls start out clean in the vanilla incense of the bathtub but soon strip down to the bra and bustier and with a quick zip of their fly pull out the nearest beast they can find to stuff it into their tight deep yearnings as only a moaning Gothic teenager can do when she's ready to have her releasing beats per minute!
These nubile young dressed teens have the look tensed animal nudes with their sucker sucking mouths and pigtails but beneath these blonde and redhead spread wings and writhing legs there lurks a darkness that will turn any man into a pile of useless feces! Dressed pastries can tempt any man faced with a Gothic chick flashing her wings and getting dressed in the backseat of a car to loving dark ceremony with the hard coded music sounds blasting on the stereo.
Freckled Lolita's like to lay down after a bottle of cheap red wine and hike their red miniskirts over their thong and slide their fingers between their knees and wipe spit and tears on their jewels. The Gothic princess dressed teen party continues with the ultimate collection of wide open cunts and fresh-faced loving dark ceremony you attitude!
The dark vampire girls are out in the Gothic streets of the oil slick city!
Drinking blood of little tattoo goth fags these Gothic mistress bare their asses before they bare their evil souls and devour the helpless men who worship their evil creatures! My goal is to gather and grow the most evil collection of Gothic erotic and updated pics and close-ups of tattoos Gothic teens, vegan pale skinned bookworms and all manner of beautiful nasty Gothic girls from the dark side!